Puerto Mogan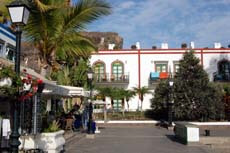 Puerto Mogan is a small fishing village on Gran Canarias southwest side. In recent years, the tourists, however, made their entry in this town and it is in this context has been greatly modernized.

Puerto Mogan is a favorite city on Gran Canaria for many tourists. Although the city has begun to be dominated by tourism, it has managed to retain his calm and comfortable atmosphere. Here you have small picturesque streets, and Spanish fishermen who operate their daily work.

The restaurants in Puerto Mogan is generally much better quality than the restaurants on the typical shopping centers in Puerto Rico and Playa del Ingles. They are somewhat expensive but definitely worth the price. This applies to both the food and service. The city's restaurants are especially famous for its fish dishes, some that have a natural context that we are in an old fishing village.

Puerto Mogan is somewhat remote in relation to other key tourist destinations. However, it is possible to take the bus, taxi or your own rental car. Taxi costs about 20 euro from Puerto Rico. Although the distance on the map is relatively short road is very narrow and twisting so that the traffic is relatively late.

An alternative route to Puerto Mogan is to take a small ferry with a glass bottom that goes in the route between Arguinneguin, Puerto Rico and Puerto Mogan. The trip costs around 10 euro per person and is reasonably quick away. The glass bottom of the boat, you have little joy of. The boat stops a little moment on the way to feed fish, so that passengers can sit in the bottom of the boat and follow. The experience is imlidertid not very exciting. Pisces is not very colorful, and the view is limited. It is also very limited with the seats so that only a minority of passengers will have the opportunity to follow. Our encouragement is therefore only to keep you up on deck and let the other passengers to be down in distress.