Amadores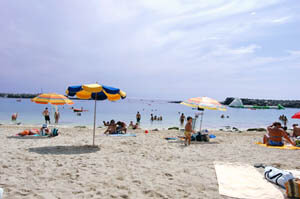 Amadores beach in Gran Canaria is located between Puerto Rico and Puerto Mogan on the island's south side, closest to Puerto Rico.
You can go from Puerto Rico to Amadores beach at the beautiful promenade that runs along the road from Puerto Rico. There are also plenty of parking area if you drive a rental car. If you arrive late you may risk that you have to park in the underground parking garage that is quite expensive. On the other side, you will not have to put your self in a burned and hot car when you are going back to your hotel.
The white sand at Amadores beach is white imported sand, not the brown lava sand that otherwise on the Canary islands. The difference is huge, the brown lava sand is very hot in the sun so that you let burn you when you go without shoes. Th
e white sand is not that hot at all even if it can be quite warm too.
Along the Amadores beach it is built a promenade with a variety of restaurants and stores. It is also good with the toilets if the need arises. Most restaurants offers "take away food" that you can take with you down at the beach instead of sitting at the not so cosy restaurant area at the promenade. But it can be relaxing it self to sit a little while in the shadow.
The Amadores beach is an artificial beach with great curved pier that stops the big waves. The big pier provides unfortunately for a relatively small circulation of the water. This in conjunction with very many people do swim at the water, especially at the end of the day, is perceived as dirty.
All in all, Amadores is a very nice beach. Perhaps the greatest of Gran Canaria and it's best for families with children.